Our diversity is unique to each of us and when we collaborate it is our greatest strength. Our colleagues can come to work proud of who they are and are supported every day to fulfil their potential. Everyone here has a role in contributing to our vision of protecting communities across the UK and facilitating a border which benefits all.
We attract talent, retain and develop a diverse range of officers, including those from any socio-economic background or protected characteristics. We recognise how a diverse workforce of officers ensures our agency will succeed in facilitating a world-leading border.
Because we recognise that everyone's different, we understand that wellbeing means different things to different people. We offer an Employee Assistance Programme, and a range of staff support networks to ensure our colleagues are never alone and can always access help when they need it. Click below to learn more: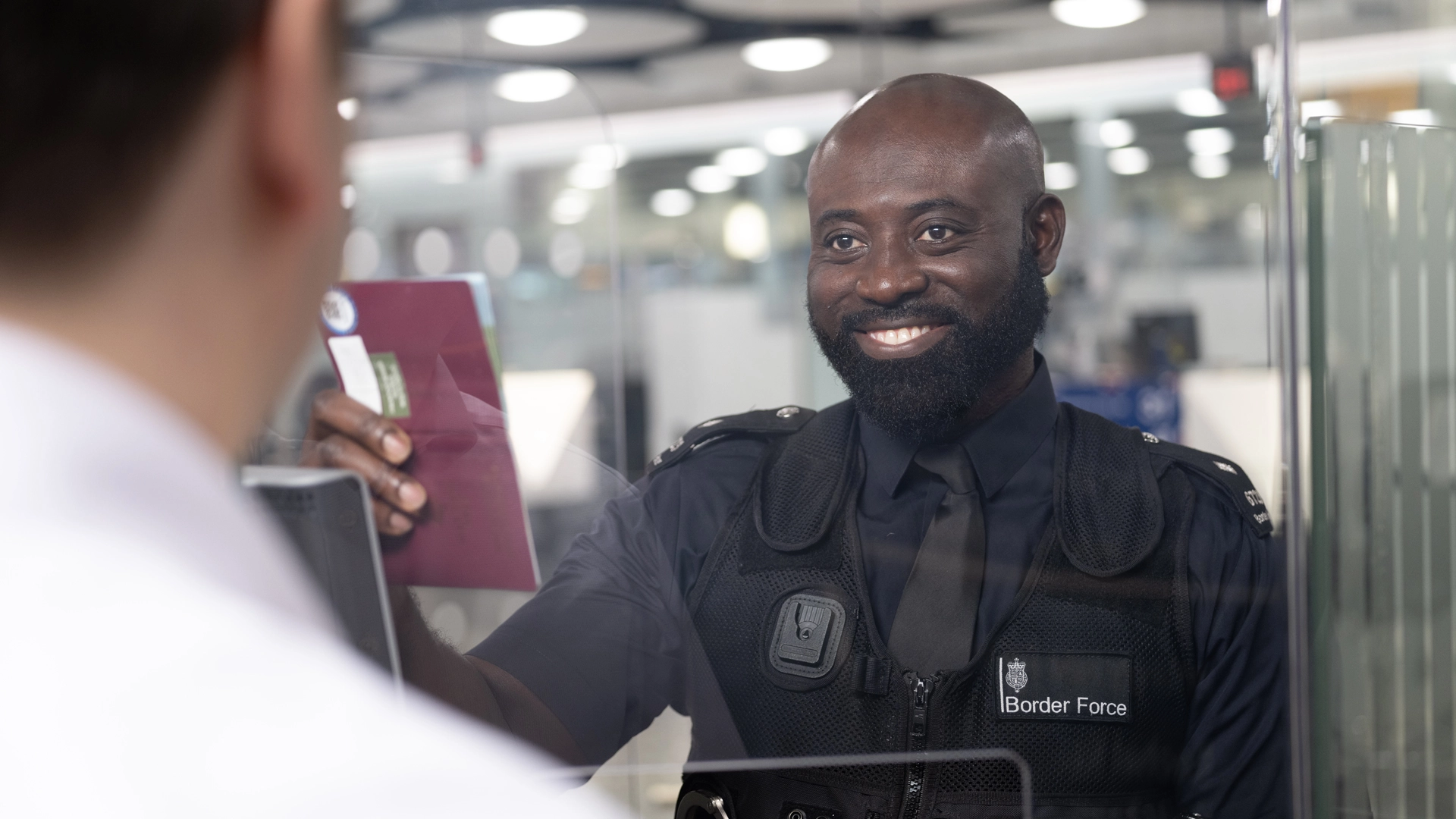 Our Staff Networks:
As part of Border Force there is a large range of staff networks you will be able to join. Networks perform a wide range of functions such as a space to meet people with shared experiences to yourself. They provide peer support, create content and events for the department as well as representing members interests at a senior level, influencing decision making.
Networks are formed around a particular mutual factor or background. They exist both at a Border Force (Agency) level, Home Office (Departmental) level as well a Civil Service wide level. To provide an idea of what sort of networks you could join:
Health and Disability: Networks such as ABLE provide a forum for staff who identify as having a disability, long term health condition or being neurodiverse. This also includes networks such as SWIM focusing on raising awareness and removing the stigma behind menopause. These networks promote awareness and ensure a culture of accessibility at work.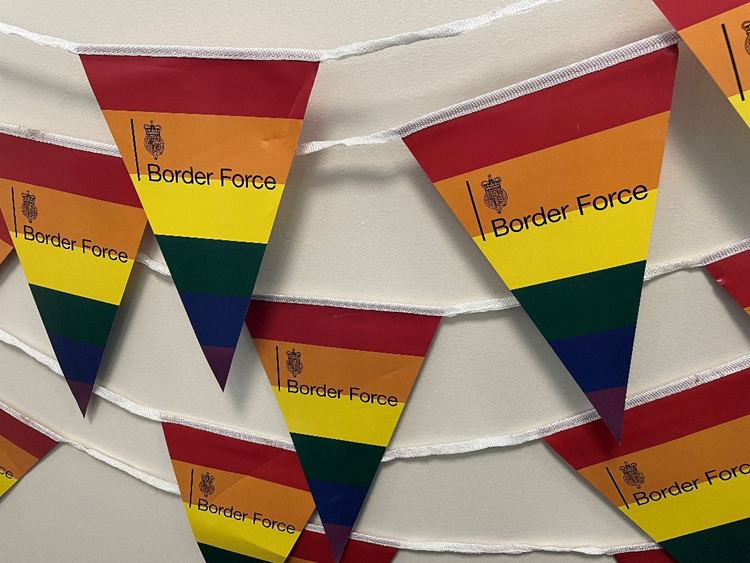 LGBTQIA+ and Gender: Networks like Spectrum and A:Gender represent any staff who identify as belonging to the LGBTQIA+ community and provide tailored support on intersectional matters. The Gender Equity Network focuses on fostering inclusion through awareness on issues like the gender pay gap and progression. These networks provide resources to help staff thrive in the workplace.
Ethnic Diversity: The Network and Race Forum focus on creating a voice for people from diverse ethnic backgrounds to ensure they are empowered within the workplace. Heritage is celebrating through different awareness months and offer a fundamental voice in shaping the future decision making and enabling progression routes at all levels.
Faith and Religion: All faiths and beliefs are welcomed with devoted networks for each religion. They provide a space for those to discuss their faith, promote awareness, celebrate religious festivals and ensure their values are reflected in the work we do. They are often linked in within the local communities through outreach.
Support for carers: Regardless of your caring responsibilities, we thrive to ensure work remains adaptable to your personal needs. Networks such those with caring, parental or fostering responsibilities exist to provide staff a place to share their experiences and access support.
Sport and Volunteering: Networks bringing together communities such as Stand 2 Support Veterans or Giving Back Network, promotes opportunities for colleagues to help wider society and find ways to utilise the 5 paid volunteer days leave available. Schemes like the Civil Service Sports Council or Ethos Network, facilitate opportunities for Sports recreation and are a gateway to schemes outside of work.
Upon joining Border Force, you will have access to all these networks and further information about how to get involved. Here is a list for more information on the Civil Service wide ones you can join, in addition to local Networks to show the width of opportunities available:
Accessibility Matters Here:
The way society and workplaces are organised can present barriers to some people, placing them at a disadvantage.
Border Force prioritises to remove these barriers by implementing reasonable workplace adjustments, so employees with disabilities have the same opportunities as employees without disabilities. They enable you to thrive and bring your whole self to work.
Border Force is signed up to the Disability Confident Scheme and is recognised as a Disability Confident Leader.
We are committed to ensuring that disability is not a barrier to recruitment or promotion. We provide officers with the support they need, to excel in their role and to develop their career.
From assertive technology, specialist equipment to bespoke preferences, we are dedicated to nurturing an environment where everyone can thrive. Upon joining Border Force, a workplace adjustments passport will be created. This ensures you have the tools and support by your side, no matter where your career in Border Force takes you, your adjustments will be there to support you every step of the way.
Here is what two of our officers have to say on what it is like working for Border Force:
''My managers have been hugely supportive at Border Force. Through my recruitment the team kept in regular contact and often contacted me to discuss adaptions I might need in the workforce. My autism diagnostic was nerve racking to share but I recognised this was my opportunity to understand who I am and to thrive, by recognising my strengths. My team were really supportive and recognised my ability in problem solving or simply being good at thinking outside the box.''
Victor
Border Force Officer
''Living with an invisible illness or disability can feel very isolating. As your condition cannot be seen, it is hard for others to know about the challenges you live with. Personally, I have a few hidden disabilities. I have been fortunate that within Border Force, my managers have listened to me and done what they can, to ensure I feel supported at work. We have reasonable adjustments support team which can help guide staff and managers in making tailored adjustments. I feel supported at work and believe Border Force is committed to helping those with both visible and invisible disabilities to do their jobs to their best ability.''
Donna
Senior Border Force Officer
Your Wellbeing is our Priority:
Your wellbeing is important, and we want to be able to support you with a range of tools and techniques to help you live your best life, both in and outside of work, to ensure you have a healthy work/life balance.
Our Wellbeing Hub on our intranet provides all staff with a digital library to access mental health support, cost of living guidance, advice on complementary therapies, leisure, and other physical activities.
All resources provided are regularly updated to remain current, and relevant. They are accessible to everyone and provide signposting to further support and information.
We also have an extensive network of mental health first aiders and allies available to contact in work to support our staff when they need it the most.
Our employee assurance program provides a helpline for staff 24/7, 365 days a year. There is a range of tailored advice and support available covering:
Personal Health and Emotional Support
Legal and Financial Support
Confide Advisors (For BHD and guidance on managemental issues).
Other benefits that focus on your wellbeing include an employee discount program for high street & branded discounts. You will also be applicable to join the Blue Light Card scheme as an officer at Border Force.
Other substantial financial benefits include options such as salary advances for rental deposits or unforeseen expenditure. Furthermore, access to our competitive Civil Service Pensions Scheme with generous employer contributions ensure you are supported throughout the future.